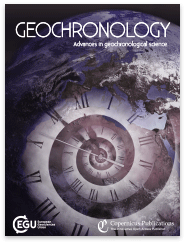 Editors: Philippa Ascough, Greg Balco, Tibor J. Dunai, Georgina King, Andreas Lang & Klaus Mezger
eISSN: GChron
2628-3719
, GChronD
2628-3735
Geochronology (GChron) is a not-for-profit international scientific journal dedicated to the discussion and publication of high-quality research on the physical, chemical, and biological processes used to quantify time in all environmental and geological settings throughout Earth's history.
Recent papers












Highlight articles






All EGU highlight articles

News
30 Jun 2023
Release of journal metrics 2022
The journal metrics 2022 were released. Please find further information on the journal metrics page.


27 Jun 2023
Referee nomination improved
To offer our journal editors a better service and an improved experience in our online system, we have significantly improved the referee nomination tool in our review system Copernicus Office Editor. Experience more and take a look.


12 Jun 2023
Enhance your peer review skills with the EGU training in September/October!
Looking to gain experience and boost your confidence as a referee? Apply for the EGU peer review training, and gain valuable insights into the peer review process. EGU is offering FREE online training in which you'll learn about the role of peer review in the publication process, in addition to review criteria and open peer review, and get hands-on experience in writing reviews. To find out more and apply, visit https://www.egu.eu/news/967/egu-peer-review-training-workshop-apply-now/.